Fair
Book
Junior Fair Book
INFORMATION
2020 JR FAIR BOOK - August Final
2020 King and Queen Packet
2020 Prince and Princess Packet
JUNIOR FAIR
DEPARTMENTS
2020 JFB BEEF DEPT - Revised 8-13-20

2020 JFB DAIRY DEPT - Revised 8-13-20

2020 JFB DOG DEPT - Revised 8-13-20

2020 JFB FFA - No Changes

2020 JFB GOAT DEPT - Revised 8-13-20

2020 JFB HORSE DEPT - Revised 8-13-20

2020 JFB POULTRY DEPT

2020 JFB RABBIT CAVY DEPT - Revised 8-13-20

2020 JFB FAMILY RULES QA

2020 JFB SHEEP DEPT - Revised 8-13-20

2020 JFB SWINE DEPT - Revised 8-13-20

2020 GIRL SCOUTS - No Changes
2020 Entry
Forms
Livestock Entry Forms have been provided to advisors. DEADLINE IS JUNE 1, 2020.
OPEN LIVESTOCK AND EQUINE
INFORMATION
OPEN LIVESTOCK ENTRY FORM with COVID
SENIOR FAIR/OPEN CLASS
INFORMATION
Coloring Page
GIRL SCOUT
INFORMATION
Girl Scout Entry Form

Girl Scout Rules and Regulations
GENERAL
INFORMATION
Livestock Tampering Rules

Rules and Regulations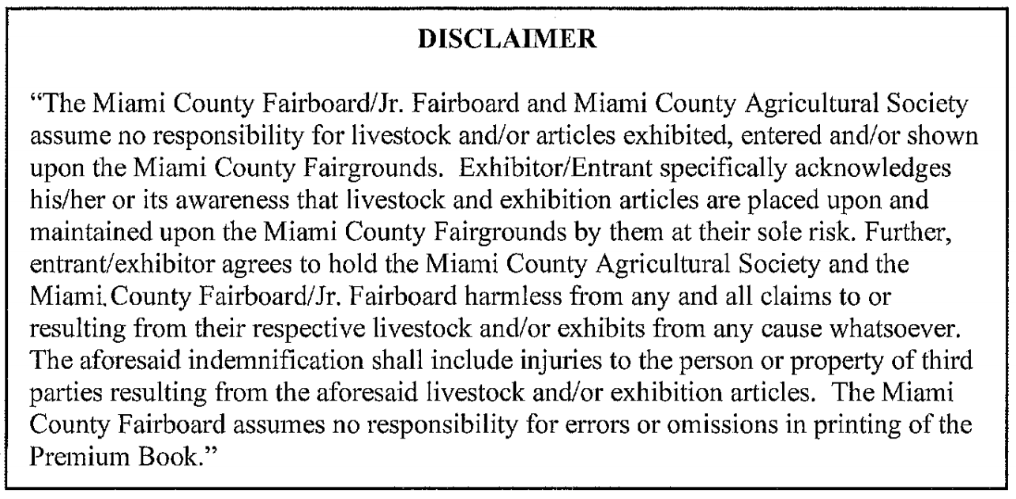 NOTICE: Some content in the fair premium book may change after publication date. Contact appropriate fair board director or fair office for inquiries.