FAIR SUPPORTER
OF THE YEAR
Judy Trissell
Congratulations!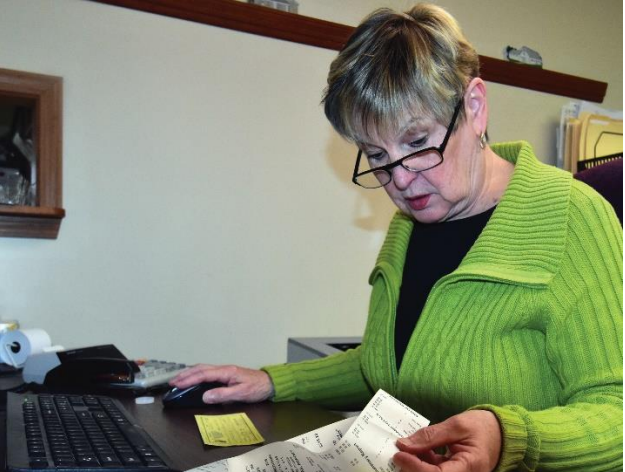 Introducing Judy Trissell as the 2021 Fair Supporter of the Year.
The Miami County Fair Board of Directors honored Judy Trissell, retiring Miami County Fair Treasurer, during the October board meeting, by naming her Fair Supporter of the Year for her years of service and always going above and beyond the call of duty. Judy said "I am surprised and humbled to say the least. There are so many people that do a lot out here that were just as deserving." Judy went on to say, "I still kind of look as it as part of my job."
The board thought she was very deserving and was happy to vote giving her the honor. Judy will miss all things fair as she retires as the treasurer of the Miami County Agricultural Society. But she said after a 30-year career working for the Miami County Commissioners, and 13 years as treasurer for the Ag Society, "You just know when it's time" she said. Judy admitted she did not know anything about the Ag Society or the Miami County Fair when she answered and ad in the newspaper for a part time treasurer in 2007. She had frequented as a spectator eating waffles and enjoying the entertainment. She had no idea of the complexities of putting a fair on. But the job offered just the kind of thing she liked to do. She says the Board is made up of generous, hardworking, and dedicated people who all share a passion for the fair.
Judy offers her time without complaint. She has a friendly smile that greets all who she meets. Judy not only worked tirelessly during fair week but also preparing and seeing through audits. She had a team that worked with her in the office and worked with our gate people to ensure all money was handled correctly. Judy may be retiring but will always be a phone call away if needed like any great fair supporter world.
Now she can enjoy the fair outside of the office walls. Retirement will let her enjoy serving her church more and travel.